MR WHEELS CAIRNS – 30-YEAR EXPERIENCE USED CAR DEALERSHIP.
MR WHEELS ARE A USED CAR DEALER IN CAIRNS AND HAVE BEEN SELLING QUALITY USED CARS SINCE 1985.
We are an independant used car dealership that delivers honest and reliable cars and information regarding those used cars. We offer a full service to our customers from buying used cars, selling used cars, financing, consigning or simply easy to understand information relating to their used cars or ours.
Having been in the used car industry for many years we have contacts that enable customers to get the very best deal on all of their used car related issues eg: finance, mechanical repairs, accessories etc. Before going on sale, we mechanically inspect our cars to make sure that they are in great conditions and priced competitively.
Our cars prices range between $5000 to $50000 and we carry between 50 - 80 Cairns used cars at any one time ranging from Passenger Cars to Commercials to 4WDS. If you can send a request of a specific used car to us, we will track it down for you and take care of finance and insurance for the purchase.
Come in and check out our great range of used cars at 57 Mulgrave Road, Cairns.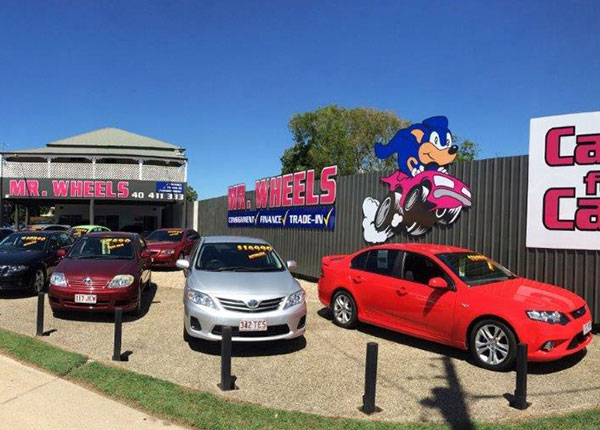 ---
SELL YOUR CAR QUICKLY AND FOR GOOD MONEY AT MR WHEELS CAIRNS
What you can do:
Sell your car to Mr Wheels as a separate sale
Trade in your used car
Sell your car via our consignment service
With more than 30 years of experience, our team of appraisers work hard to provide you with precise car valuations that reflect the current market's value. We will guide you through every step of the process and take care of all paperwork for you. Once you have accepted the offer, we will pay cash for your car instantly.
BUY A USED CAR FOR SALE AT MR WHEELS IN CAIRNS
Mr Wheels is proud to be a renowned and trusted dealer which offers our customers the best used car deals. Our passion is to enable prospective car buyers to find affordable used cars that meets their taste and their budget. We put ourselves in your shoes, we know that buying a car is one of the biggest investments you can make, which is why we are devoted to assisting you to make the right car buying decisions.
Come in and check out our great range of used cars at 57 Mulgrave Road, Cairns.